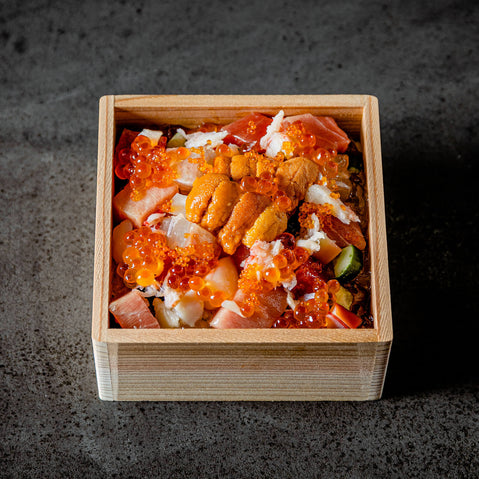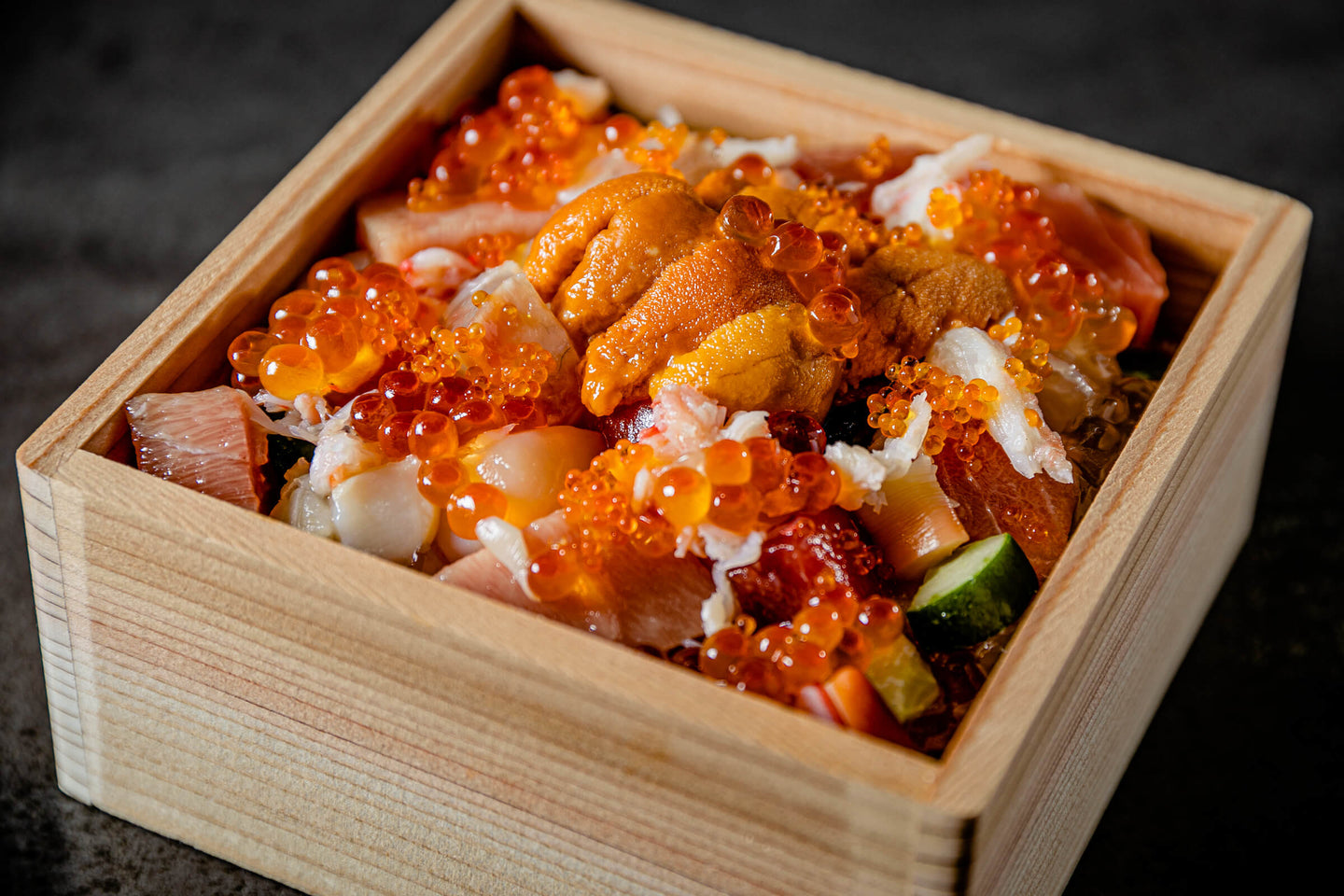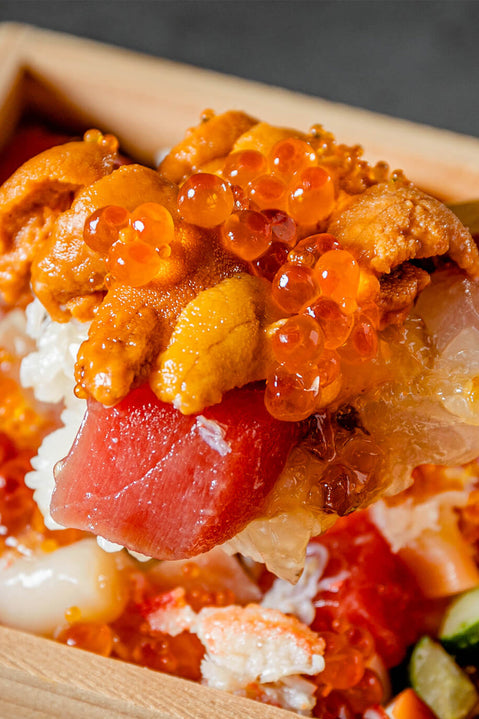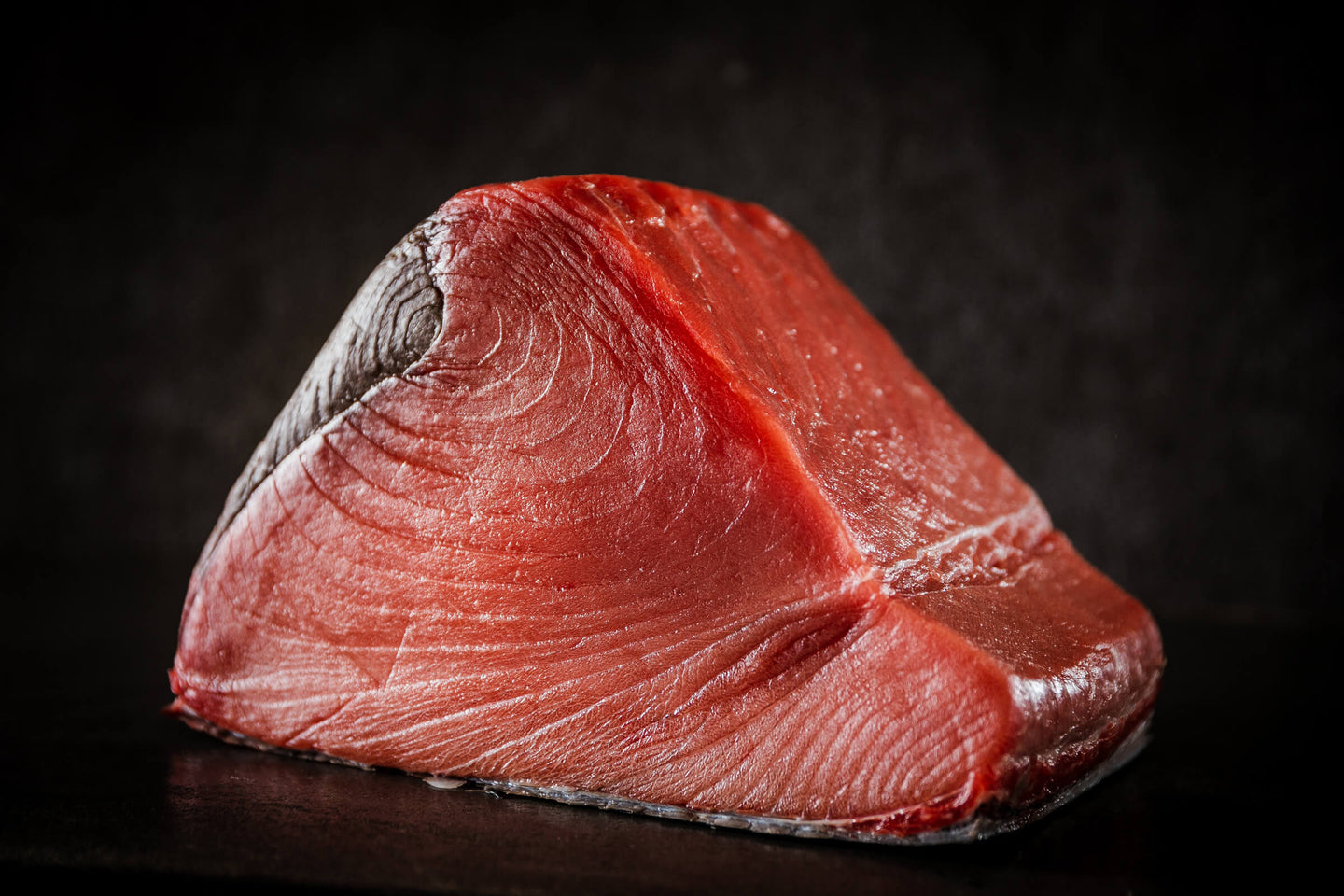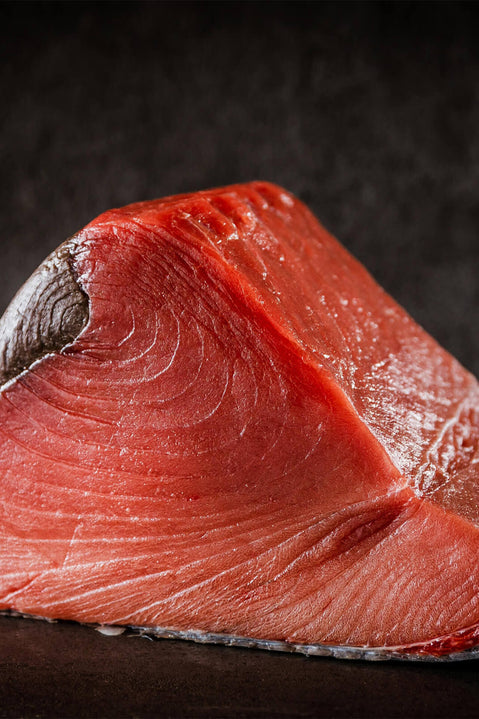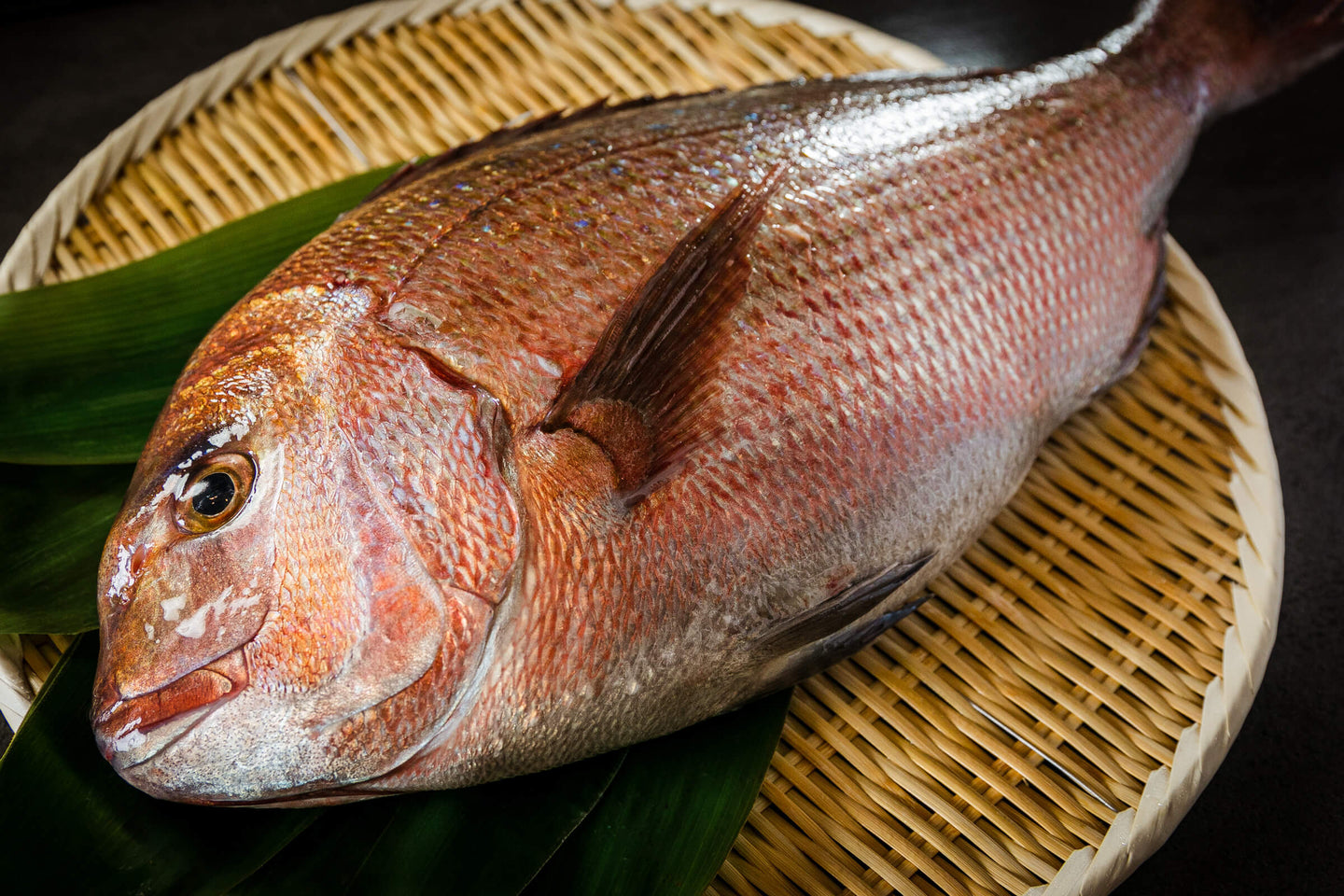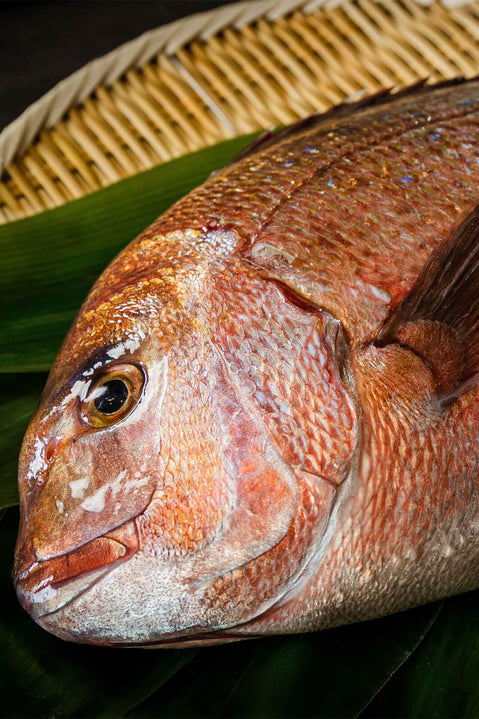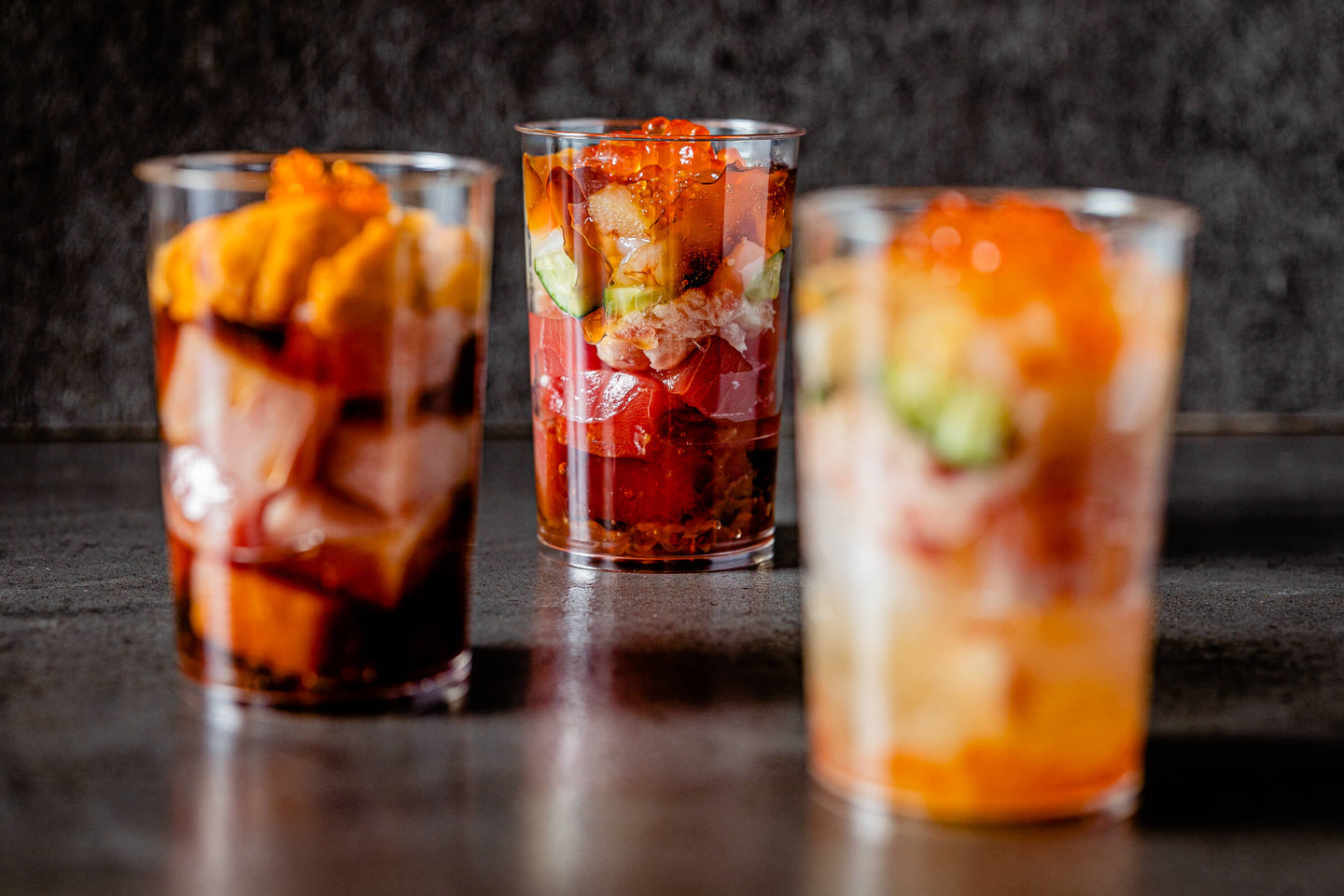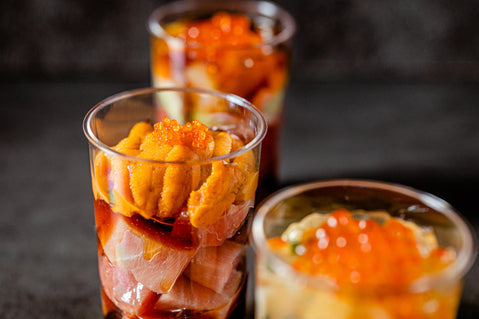 The best Seafood Bowl at home!

We accept delivery/take-away orders in Shirokane, Minato-ku, Tokyo.

Start order→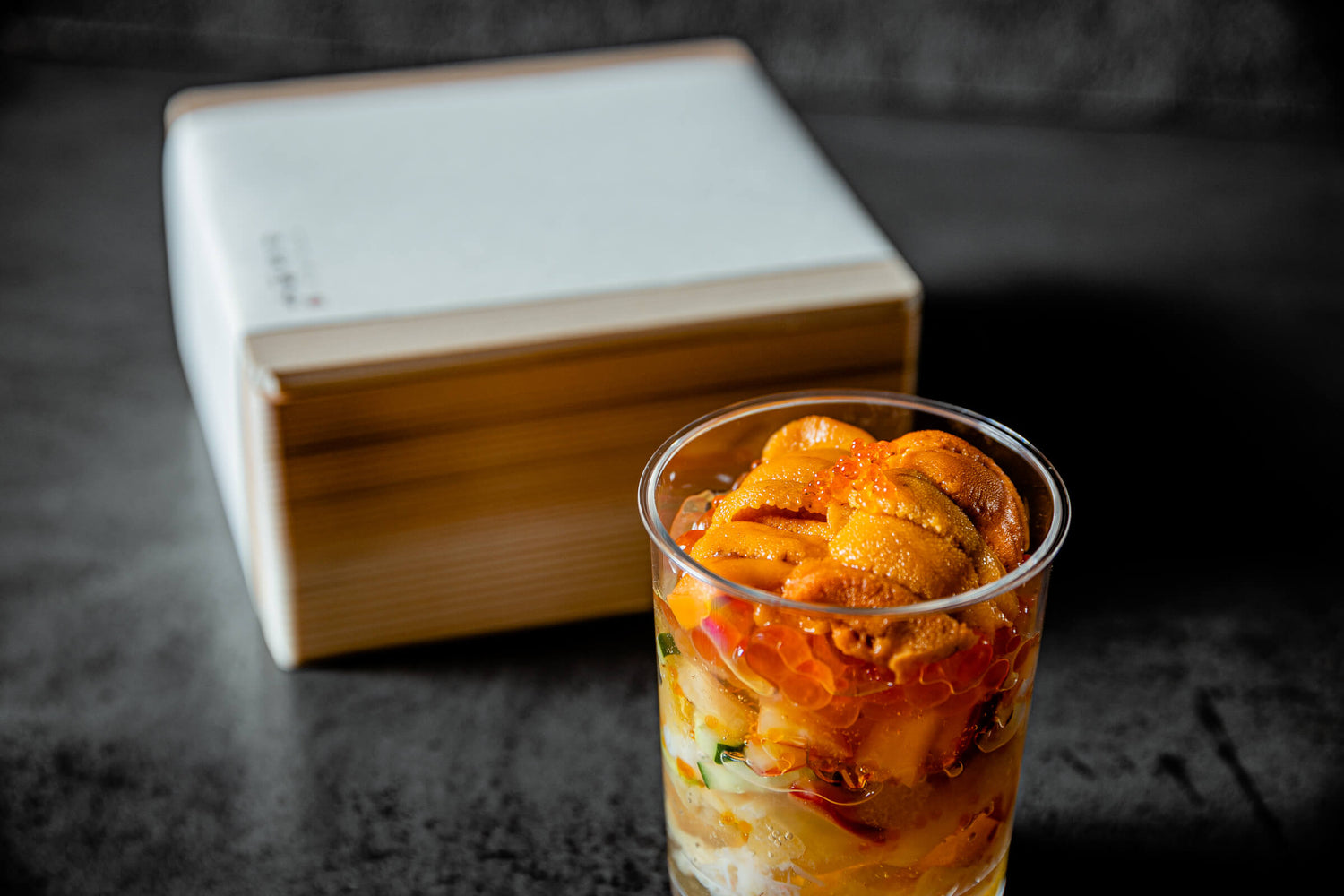 Separate packaging
The seafood and the sushi rice are served separately.
So you can enjoy the taste of freshly made sushi without the drippings of the fish soaking into the sushi rice and the temperature of the sushi rice not transferring to the fish.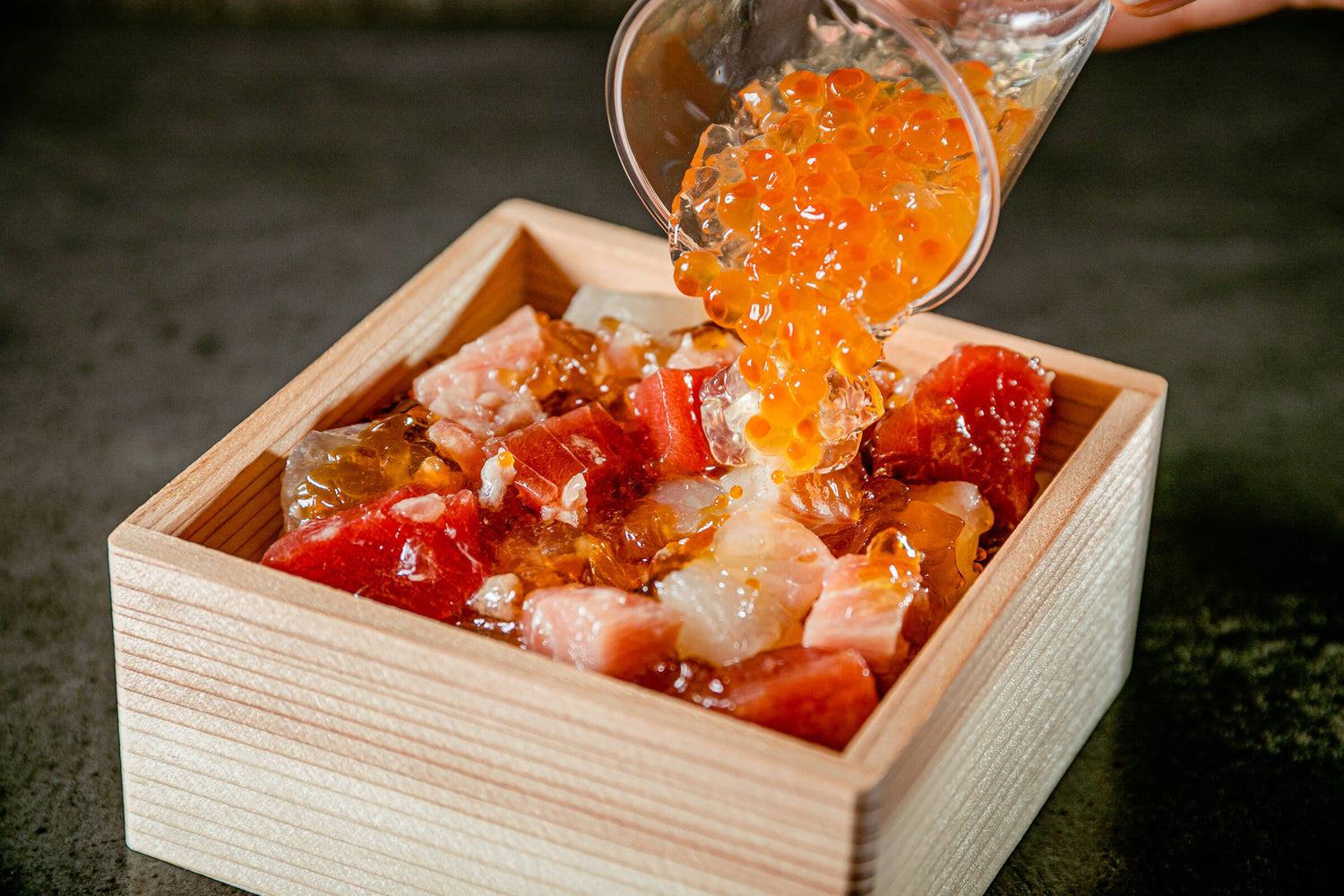 Beautiful and fun!
You can eat seafood that is beautifully packed in a cup like sweets and sprinkled with sushi rice.
In order to deliver such a beautiful and enjoyable experience, we carefully make it by paying attention to presentation, packaging, and how to eat.
Dashi jelly
Shirokane Umisachi's seafood bowl is also called "seafood bowl without soy sauce".
Since it is seasoned with a jelly made with a special dashi stock, you can enjoy a delicious seafood rice bowl with just the right amount of seasoning without adding soy sauce.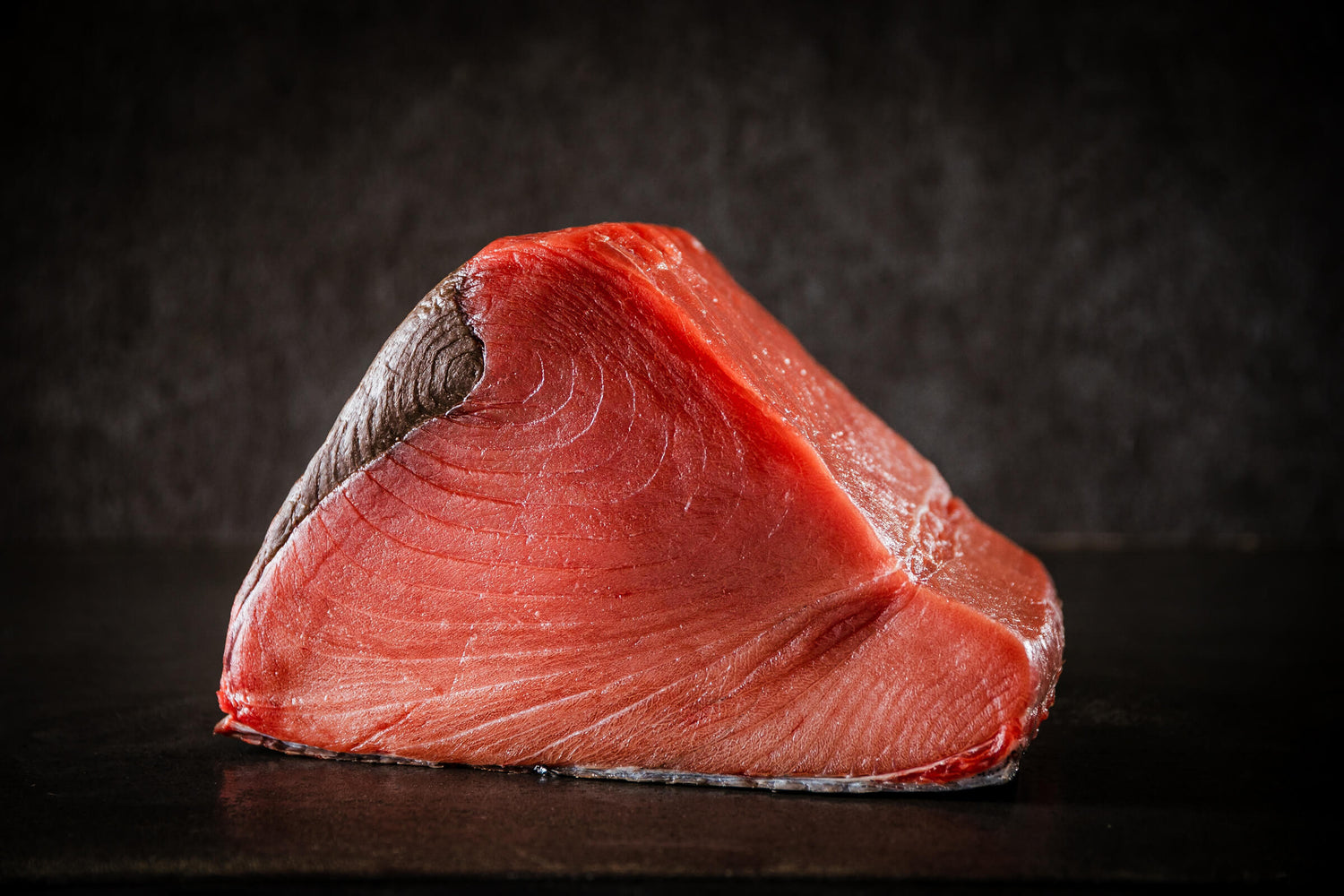 Carefully selected production areas.
We mainly use bluefin tuna raised in the rough seas of "Takashima" in the Genka Sea , one of the world's leading fishing grounds.
By tightening the nerves immediately on board the tuna before it is landed, the tuna retains a great deal of umami. increase.
Please enjoy our boasted bluefin tuna that is particular about its production area and taste.
* Depending on the stocking situation, we may use bluefin tuna from Amakusa, Kumamoto Prefecture or from overseas. We will inform you of the purchase status on social media and more.
Tuna Seafood Bowl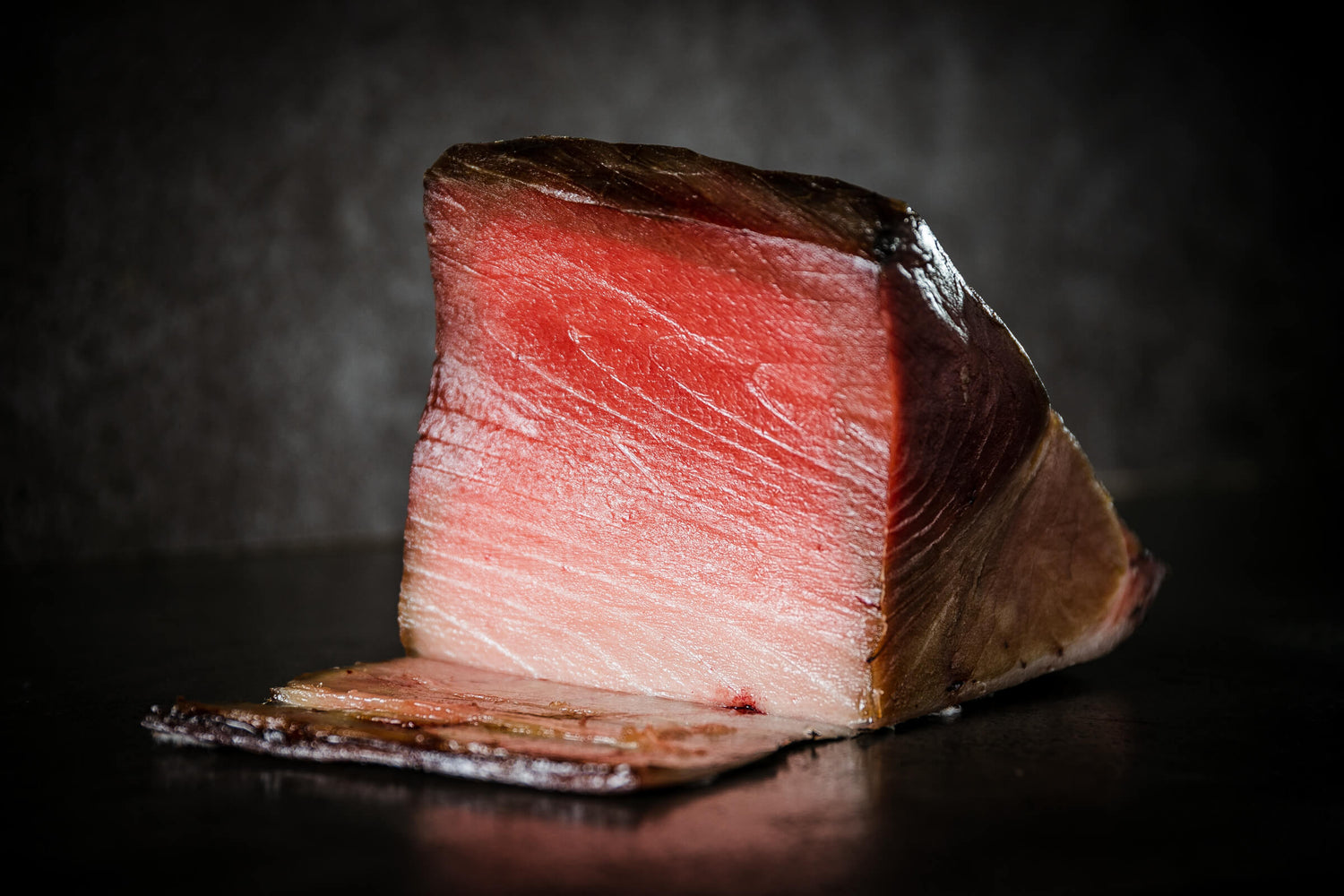 The answe is "dry aging".
In order to make the tuna we carefully select and purchase even more delicious, we have conducted extensive research and arrived at the "dry aging" method.
Dry aging is a method in which a block of tuna is dried in a refrigerator in its naked state, and then aged little by little while the temperature is controlled. The meat has been properly moistened and only the flavor has been concentrated, creating a perfect balance between a sticky texture and a mellow flavor.
Seafood Bowl with medium fatty tuna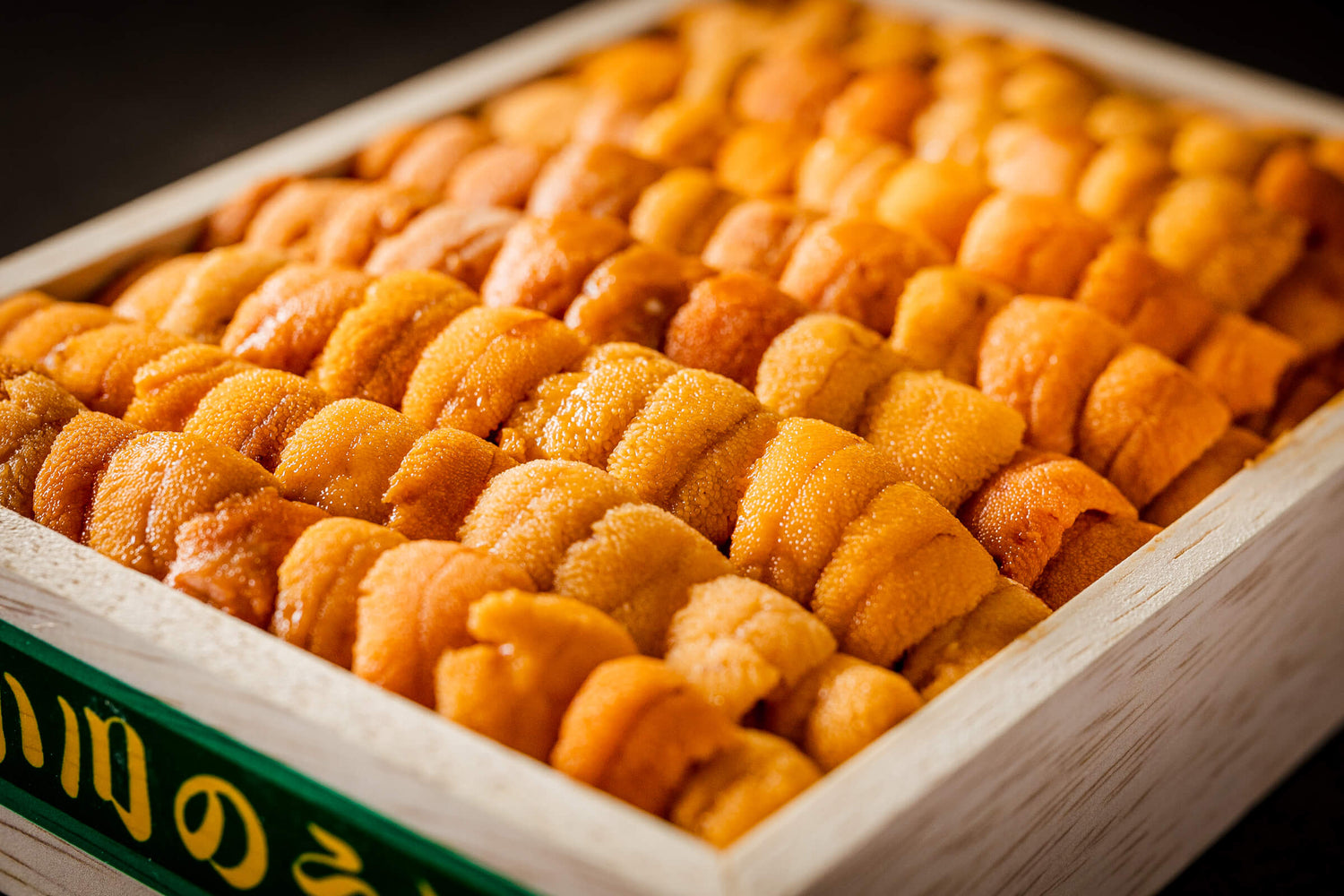 On "Pride"
The owner of Umisachi is a big sea urchin lover, having once traveled all over Japan in search of only sea urchins.
That is why she never wants to serve her customers untasty sea urchins. He only serves fresh sea urchin that she is satisfied with and that is truly delicious.
With such pride and conviction, Shirokane Umisachi's raw uni is carefully selected and purchased.
There may be times when the price of a product fluctuates or we do not stock it, and we ask for your understanding.
Seafood Bowl with fresh sea urchin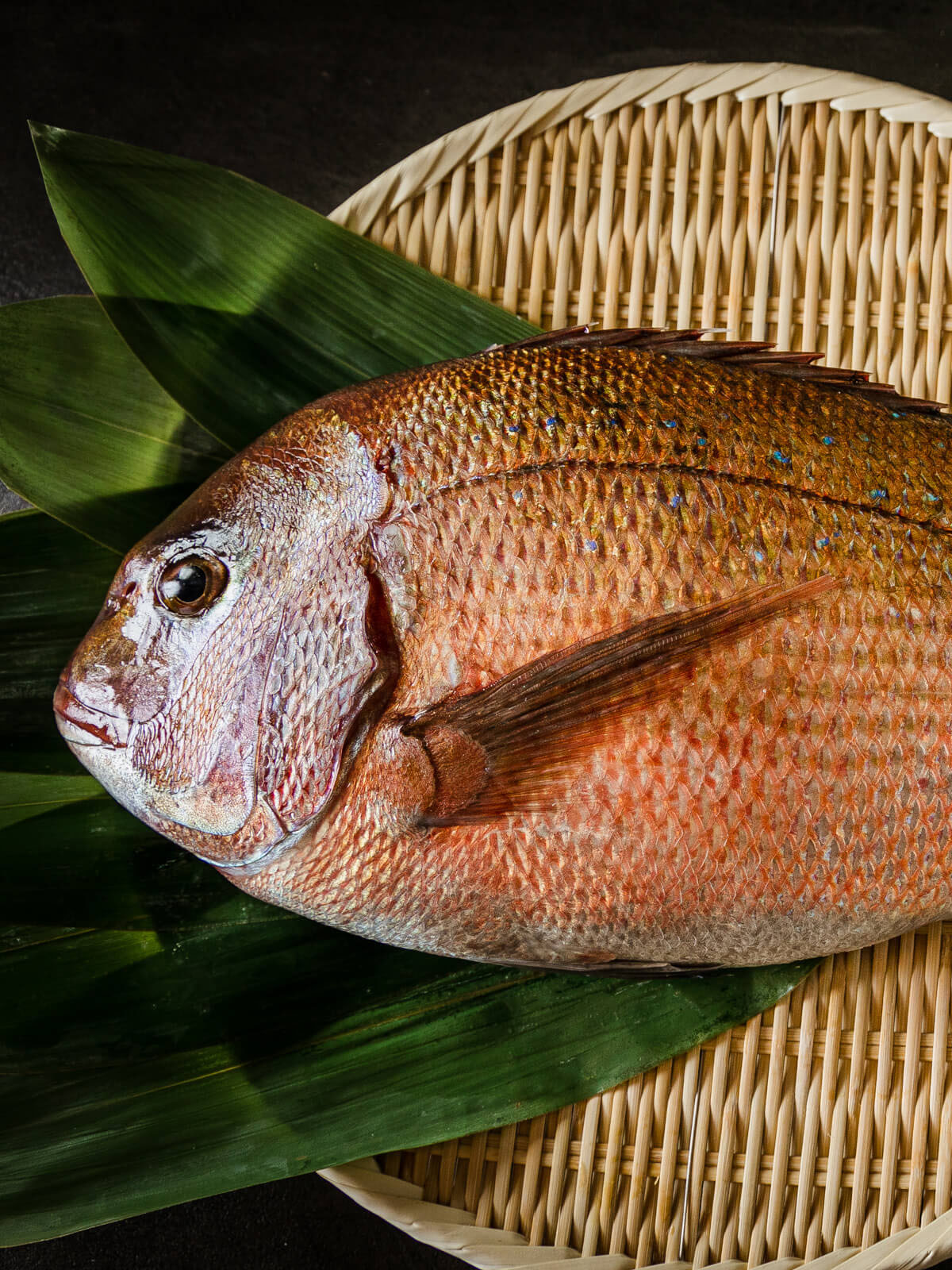 Putting in the "time and effort."
"Being particular" does not mean paying a lot of money to buy expensive things.
Recalling the words of a senior colleague who once told us, we continue to process sea bream, let it rest for days, carefully kombu-jime it, and serve it to our customers today.
Seafood Bowl with red sea bream
For family celebrations such as Father's Day and birthdays

Mother's Day, Father's Day, Respect for the Aged Day, birthdays, wedding anniversaries, entrance to school, graduation, promotion, retirement, etc. Please enjoy Shirokane Umisachi's seafood jug for family celebrations.

We will create a special dinner party for you to remember.

For a home party with friends

Shirokane Umisachi 's kaisenjyu is perfect for home parties with close friends.

Depending on your budget, it is also possible to add special toppings and prepare wine or sake that goes well with seafood.

For seminars, meetings and dinners

You can use Shirokane Umisachi's Kaisenju in business situations, such as lunch boxes served at seminars and meetings, dinners and lunch meetings at important business negotiations.

We accept orders for up to 30 people.

For special occasions such as betrothal gifts and wedding receptions

We recommend Shirokane Umisachi's Kaisenju for special occasions such as family reunions, betrothal gifts, and wedding receptions.

We can also prepare special packaging and cutlery to suit the solemn occasion.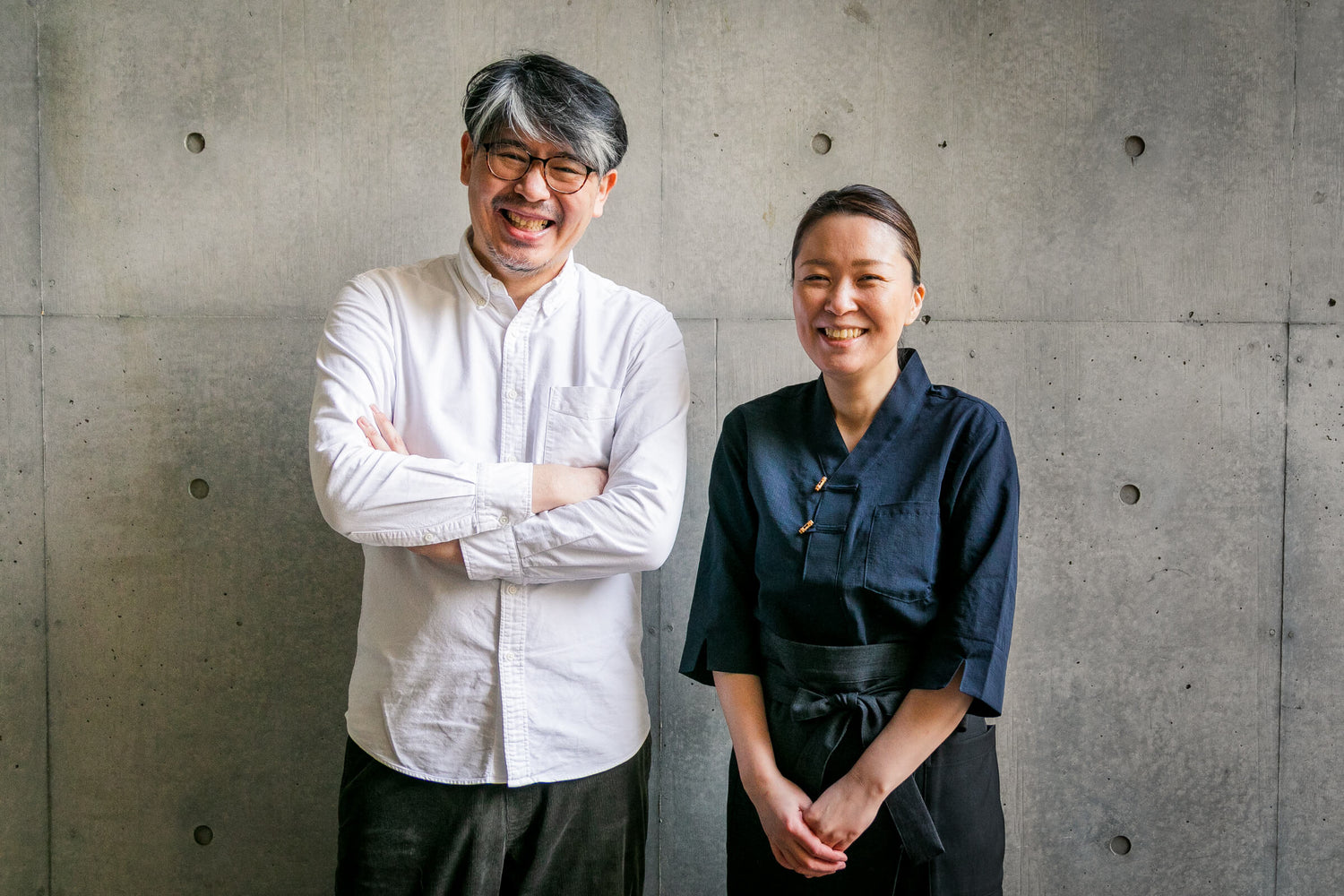 To make you smile, you who have not yet seen it.
We at "Shirokane Umisachi"
are making Seafood Bowls with all our hearts today.
We look forward to your orders.
Start order→
---
自分の愛する人のために料理を作る気持ちで、
お客様に料理を作る
− 陳 建一 −
---